Official Website Launch Ceremony of Birland State Government
正式启动伯兰国政府官方网站仪式
 A warm invitation to all our precious guests from all countries to attend and witness the official launch of Birland State Government website. Let us celebrate this joyous and historical moment together via Zoom Meeting on 3rd October 2021, 7.30pm to 10.30pm (GMT +8 Singapore).
诚心邀请各国国际嘉宾参加与目睹【伯兰国】政府官方网站启动仪式盛会, 正式于2021 年10 月 3 日傍晚 7时30分至 10时30分(GMT +8 新加坡)加入Zoom 会议, 让我们一起庆贺这历史性的一刻。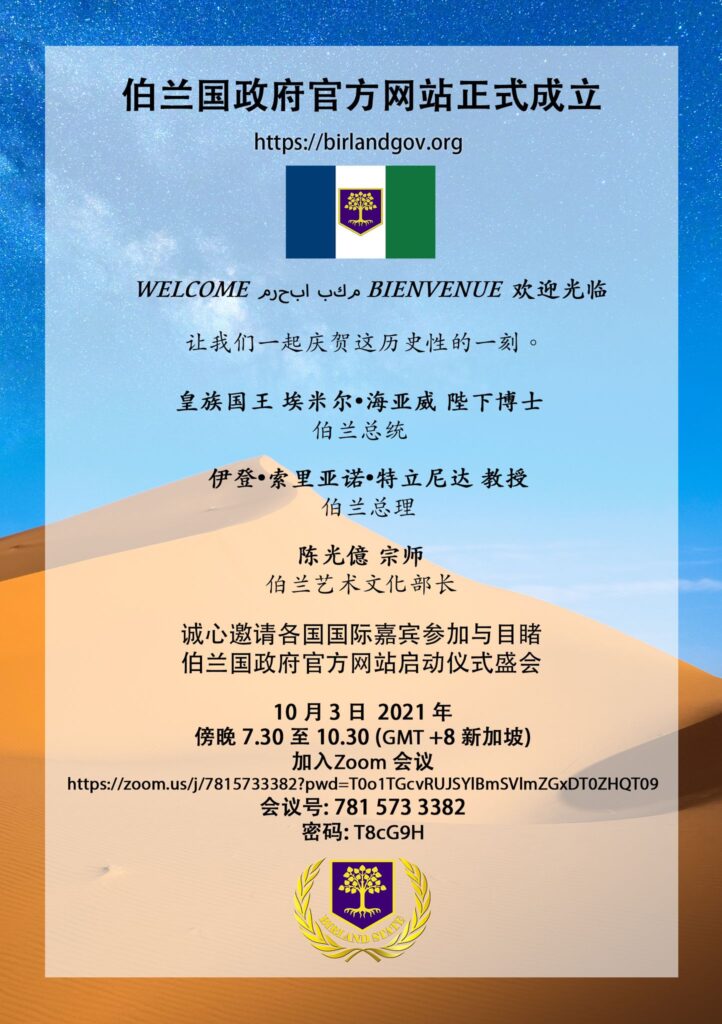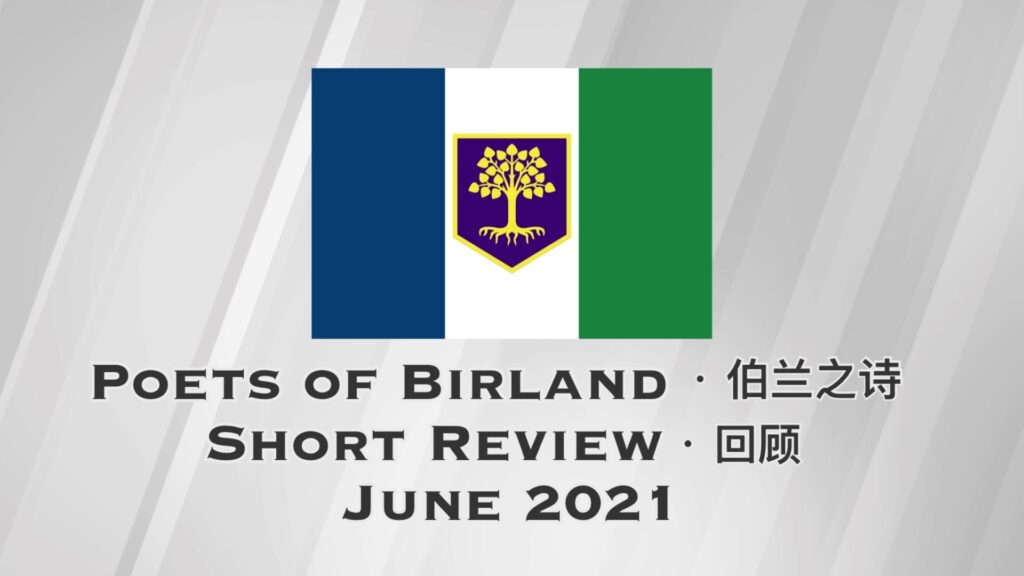 A wonderful video will be played that day, and we will review the First Poetry Conference grandly held on 29 June 2021, in commemoration of the sixth anniversary of Birland State. To commemorate the sixth anniversary of the Founding of the Birland State on the night of 29 June 2021, an emerging African country, an online meeting was held by Prime Minister of Birland State H.R.M. Prof. Dr. Queen Eden Soriano Trinidad and Minister of Culture & Arts H.E. Grand Master Jason Tan Beng Siang, hosted by the famous German poet Xanthi Hondrou-Hill. Participants come from seventeen different countries and regions, including the Philippines, India, Nepal, Nigeria, Ecuador, Bosnia, Pakistan, Kosovo, Serbia, Bangladesh, United Kingdom, France, Malaysia, Greece, Germany, China and Singapore etc. As many poets celebrated the sixth anniversary in the encouraging presence of King H.R.M. King Emir A. Haiyawi and Queen Hanane Aboulhayat of Birland, everybody prayed for blessings and wishes the Birland State a prosperous future. Organizer: Culture & Arts of Birland State Government、Poets of Birland.Support Units: Federation of World Culture and Art Society (Singapore)、Unity World Peace Peot、Inter Galacticos Poetas、Royal Kutai Mulawarman Peace International Institute、United Global Kingdoms.
当天会播放精彩视频,并回顾之前第一届伯兰国纪念建国六周年诗歌大会隆重举行在2021年6月29日晚,为了纪念非洲新建立国家伯兰国成立六周年,由总理伊登•索里亚诺•特立尼达女皇教授及文化艺术部长陳光億宗师精心策划,德国著名女诗人克桑西•洪德鲁•希尔主持的线上诗歌大会隆重举行。
参与人员来自菲律宾、印度、尼泊尔、尼日利亚、厄瓜多尔、波黑、巴基斯坦、科索沃、塞尔维亚、孟加拉、英国、法国、马来西亚、希腊、德国、中国、新加坡等十七个国家与地区。
许多诗人在伯兰国王埃米尔•海亚威博士与王后哈南·布拉希亚的鼓舞下庆祝六周年, 共同为人民祈福,祝愿伯兰国家繁荣昌盛。
主办: 伯兰国政府文化艺术部、伯兰诗词国。
支持单位: 世界文化艺术联合总会、世界和平诗人联合会、国际银河诗人会、皇家库泰·穆拉瓦曼和平国际学院、全球王国联合会。